Hydropool vs American Whirlpool Swim Spas: Unbiased review
Once you've seized upon the idea that you want a swim spa, for many people the next choice is which one? And then you're off looking to see who sells what around you or what's the best there is or what is the best you can get.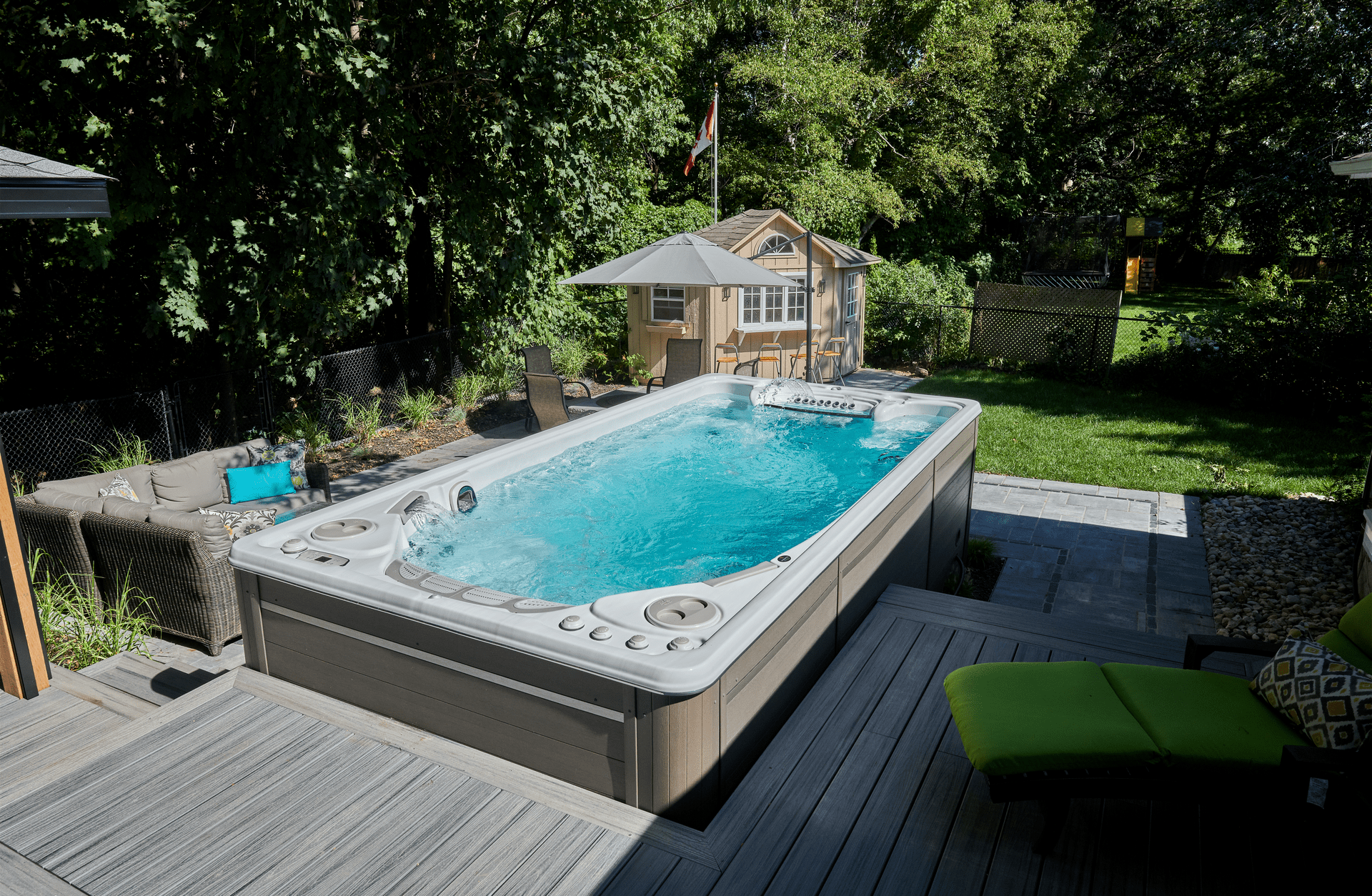 Once you've seized upon the idea that you want a swim spa, for many people the next choice is which one? And then you're off looking to see who sells what around you or what's the best there is or what is the best you can get.
American Whirlpool and Hydropool are two brands making high quality swim spas. And if they are selling in your area, it's logical that you'd want to check out what each brand has for sale.
The problem is finding unbiased reviews of swim spas is difficult. As an industry, the products aren't reviewed by Consumer Reports or any review site that attempts to be unbiased. So trying to find out "are Hydropool swim spas good?" or "are American Whirlpool swim spas good?" becomes a bit of a guessing game.
That's why we wanted to write this article. We wanted to write in the most unbiased way we could about the two brands. We know it may be strange to have one brand write about another, but we're not interested in trashing the competition here. We know American Whirlpool and Hydropool make very different swim spas, so we wanted to point out what is different.
Since we are asked about American Whirlpool frequently in our stores, and how we compare, we wanted to provide answers, as best as we could.
So in this article we will:
Compare swim spa collections
The looks of each swim spa
How the swim is in each
Which swim spa is best on maintenance
Which swim spa is the least expensive
Which is the right swim spa for you?
Hopefully, by the end, you'll have a sense of which one you'd like to check out.
Hydropool vs American Whirlpool: Which models compare?
American Whirlpool has the R and M Collection. They also have a DM designation, which refers to a hot tub and swim spa combination model, with one of each (Hydropool calls these Dual Temps, and they are found in the Aquatic collection).
The R collection matches up best with Hydropool's AquaPlay and the Aquatic Sport.
The M Collection is best compared to the Hydropool Aquatic Trainer.
We don't think there is a model that lines up with the Hydropool Executive Trainer, and we will explain that below.
American Whirlpool vs Hydropool: Which looks best?
You're not going to see a major gap here between the two brands, because both brands take a classic, conservative approach to their styling. We can't tell a lot from American Whirlpool's website whether you can get different colors in the cabinet or in the acrylic, but Hydropool offers a selection of whites, creams and silvers to choose from in the shell and two choices in the cabinets. It looks like there may be a little more flash on American Whirlpool – lights and waterfalls – while Hydropool has a slightly more understated look, designed to blend into backyards.
American Whirlpool vs Hydropool: Which is the best swim?
Let's take a look at model through model here.
A key difference is that American Whirlpool's entry-level RF2 swim spa is a closer to a pure swim spa, while Hydropool's AquaPlay FFP is a swim spa/hot tub hybrid.
The RF2 has got four swim jets, vs two of Hydropool's oval swim jets (Hydropool makes them oval to increasingly flatten the water you're swimming in, so that it doesn't spray – it's called shredding the vortex. Cool, huh?).
The smallest R-collection model, the RF2, has four seats to the nine in the Hydropool Aqua Play, which is known as the FFP – the Family Fun Pool. It's designed more for play – you can do a little bit of everything in it.
The American Whirlpool RL4 and RB4 compare well against the 14-foot Aquatic Sport made by Hydropool (the L and B stand for Lounger or Bench with American Whirlpool which refers to the types of seats it has).
Again, American Whirlpool has four swim jets to Hydropool's two ovals, so it's got plenty of power to swim against. Jets are added for buoyancy here on both models, to help hold you in place as you swim, so you don't need a tether.
As the swimming capability increases, Hydropool adopts its shell in the Aquatic Play to be able to take care of the waves created by the swim spa's current colliding with the sides and ends. It has "hips" which curl around the sides of the acrylic shell, which funnel the water coming from the current into awaiting suction which siphons any waves away from the walls to be turned into current again.
It's all done to get more control of the wave and the current. Hydropool tries to create the smoothest, flattest swim possible.
The M series for American Whirlpool is best compared to the Hydropool Aquatic Trainer. American Whirlpool switches to two more powerful jets and so does Hydropool. There are three pumps on each model, so this level of swim spa is for quite capable swimmers for both models. American Whirlpool also has a 16-foot performance pool called the MX6, with four pumps – again, a lot of power to be controlled. Hydropool has an Aquatic 17-footer at this level of swim that is comparable.
Lastly, Hydropool has the Executive Trainer, which is purposefully built for elite swimming. We didn't see a model that immediately compares in the American Whirlpool lineup. You can change the swim speed from 1-10 so anyone can use it though. The hips of the shell are removed for more room to swim but they replaced with a large current collector at the opposite end of the jets, which turns the waterflow into an extremely powerful, smooth and strong current to swim in. It's a swim spa unit entirely engineered for elite swimmers, and worth trying to see the difference if swimming is important to you.
American Whirlpool vs Hydropool: Which is the better-built swim spa?
These are both built in very similar ways. Both have steel construction underneath and are built with perimeter foam, sealing in heat and using the waste heat of the motor to lower your heating bills by heating your swim spa. Hydropool does an extra step for Canadian winters by adding full-foam to the middle part of the swim spa, for an extra layer of insulation.
American Whirlpool vs Hydropool: Which is easier to maintain?
Hydropool has a unique patented system called "Self-Cleaning," which is modelled after how commercial or public pools are built. It consists of top-side skimmers, floor vacuums and non-bypass filtration, which means all of your water is filtered about every 40 minutes in a Hydropool swim spa. American Whirlpool uses a more standard system in the industry, which has worked well for many companies.
American Whirlpool vs Hydropool: Which is less expensive?
We couldn't find American Whirlpool pricing when we combed their website, although you can request quotes. Hydropool puts all of its pricing online, with every model of hot tub and swim spa.
In general, we believe American Whirlpool will be cheaper throughout the lineup, model for model. As you get closer to Canada though, they will become more expensive, as they are made in Arizona, and Hydropool is made in Mississauga, Ontario.
American Whirlpool vs Hydropool: Which is the right swim spa for you?
Both companies have been around since the late 1970s and selling swim spas almost that long. So both have established themselves as credible, with long histories. But they haven't evolved the same way at all.
There are some stark choices here, depending on what model you're looking for. American Whirlpool creates powerful swim spas, while Hydropool's focus is on creating a strong, stable current for a smoother, consistent swim.
Which one is right for you? We hope this article worked to answer your questions there. But if it didn't, don't hesitate to reach out to us by finding the closest retailer near you.
Disclaimer: In this article, we've used brand names not affiliated with Hydropool or Jacuzzi Brands LLC, the parent company of Hydropool. All information, including pricing and product details, was accurate at the time of writing and may change without notice.